Diseases and pests can ruin a beautiful lawn. Our trained professionals will protect your lawn with anti-fungal and pest control treatments designed to keep your lawn healthy throughout the year.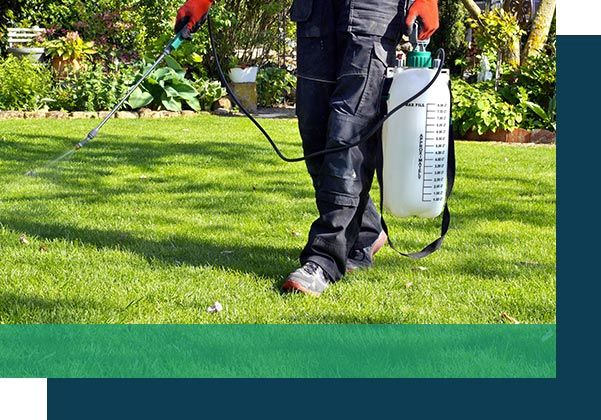 Why choose us for fungus and pest control?
Your lawn is an ecosystem all its own, and it contains plenty of insects and animals that you might not even know are there. While some of those insects and animals are helpful to your lawn, others can cause significant damage. Although earthworms are a pleasant sight in any soil, as they prevent compaction, other insects and worms aren't so welcome.
Some insects kill your grass by poaching vital nutrients while others eat the roots of the grass, creating brown spots in your yard that causes grass to easily come loose. Our experienced landscape team can identify the pests that are causing problems in your lawn and provide a treatment to solve the problem.
In addition to pests eating your lawn, fungi can make it sick, and Kansas weather often creates a perfect breeding ground for fungi. A fungal infection in your grass can eventually spread to make your whole lawn sick and unsightly. Our fungus program identifies the problem and provides the proper treatment to return your lawn to a hearty and healthy state.
Through custom-designed pest and fungus treatment programs, our services will keep pets and children safe while rooting out your pest problem. No two lawns are alike, so we create unique solutions for each lawn. Rid your lawn of what ails it in a way that is safe for you and your family, allowing you to once more enjoy a beautiful lawn as the backdrop to all your outdoor activities.
Call 913.782.1845 or fill out the form below