Whether you're starting a lawn at a newly built home or starting over on an existing lawn, our expert team can meet your sod installation needs, laying as much or as little sod as you need to get your lawn in perfect shape.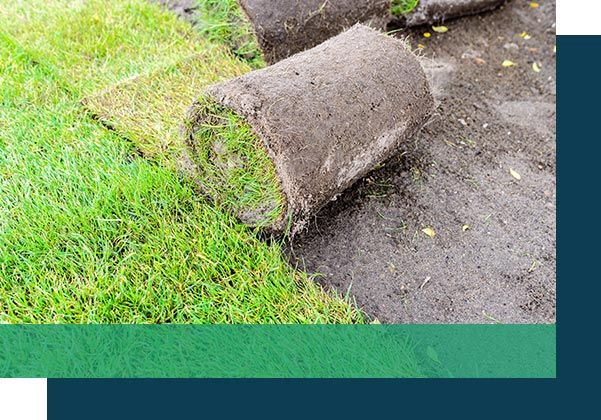 Why choose us for sod installation?
Whether you need a new lawn or to fix bothersome trouble spots, sod can be the answer. If you don't want to wait for seed to germinate in bare patches, sod provides a quick alternative to establish a beautiful new lawn.
Our expert sod installers will help you choose the perfect sod type for your lawn, whether you need to match an existing grass blend or want to try something different. Our experienced team will explain the benefits of each type of grass based on climate and your yard's needs so you receive the perfect lawn for your lifestyle.
Rooted's landscape professionals will install your sod, making sure it has the best chance to root well into the soil. We'll take into consideration the season, the weather and your ability to give the sod the care it needs in those first crucial weeks. Then we'll work with you to create a customized plan that works for you.
Proper watering is crucial to sod's success, which is why we leave you with specific instructions on how to care for your newly installed sod. Sod will grow shallow roots in about two weeks, but it takes closer to six weeks for most sod to grow deeper roots that will keep it growing and healthy for years to come.
After your sod is installed, you won't be left on your own. Our technicians are always available to answer questions or perform an inspection if you have a problem. We want to be partners in the success of your lawn and landscape objectives, which is why we pride ourselves on making sure the end result is what you expect.
Call 913.782.1845 or fill out the form below