Don't let a snowstorm put visitors to your property in jeopardy – or worse, grind business to a halt. Our snow removal team keeps your parking lots, sidewalks and patios clear, so you can keep your doors open for business.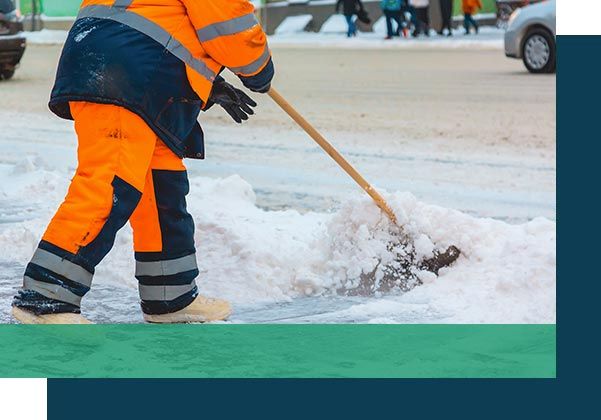 Why choose us for commercial snow removal?
Our services don't end when the winter winds roll in and snow covers the ground. Snow and ice can wreak havoc on your property and keep people from getting to your front doors. Our snow removal teams work throughout the winter to keep your property open and those who visit your business safe.
Not every business can take a snow day, which is why we provide professional snow removal for all parking lots and hardscape areas. Our teams will work quickly and efficiently to clear snow from your property so your operations can continue without disruption. A snow removal contract with us provides peace of mind knowing that your employees and clients can safely conduct business without worrying about ice and snow.
Keep visitors to your property safe from slips with our shoveling services. We remove ice and snow and lay down treatment to encourage melting so sidewalks and walkways remain clear throughout the day and night.
We offer free snow removal consultations so that we can understand and plan for the snow removal needs of your property. When snow falls, our teams deploy quickly to keep your business operations on schedule.
Snow isn't just a danger to people — unplowed and unshoveled surfaces also risk giving your building the appearance of neglect. Our snow removal teams arrive quickly and return your property to its regular appearance, that way when clients and visitors arrive in the winter they're met by a safe and beautiful property.
Let us worry about your snow removal needs so you can rest easy knowing your property is safe and beautiful during winter weather.
Call 913.782.1845 or fill out the form below