Our mulching services keep your beds looking attractive while controlling weeds and retaining moisture for your plants.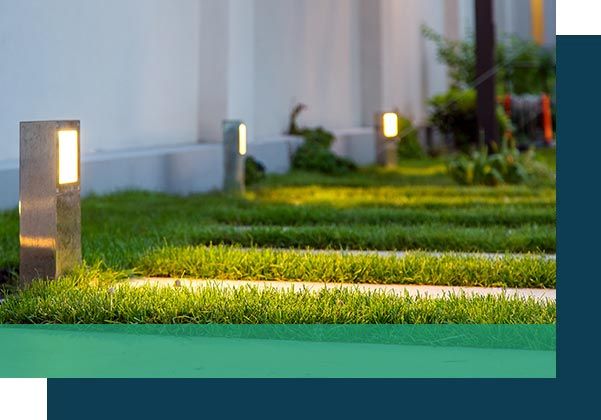 Why choose us for landscape lighting?
Don't leave your property in the dark. Attractive and unobtrusive landscape lighting can bring your property to life after the sun goes down. Whether you have outdoor areas for activities like a fire pit or you want to improve walkability on your property at night, landscape lighting is the perfect way to brighten things up and draw attention to your property even after dark.
From spotlights to path lighting, our design team can create the perfect lighting design for your space. Our installation experts will install lighting in a quick, efficient manner that will leave your property looking great at night.
We offer plenty of lighting options, including solar-powered lights that won't add to your electric bill. You can choose anything from simple path lighting to a featured light that makes a statement as a centerpiece of an outdoor gathering area. We'll help you choose lighting that fits the purpose and personality of your property while increasing the safety of those who live and work there.
Landscape lighting can also help deter theft and other crimes, as well-lit spaces are less attractive to would-be criminals. Landscape lighting overall improves the look and safety of your property, and it improves walkability at night.
Our lighting design can highlight landscaping or other property features as well as light the way in hardscape areas. Our goal is to provide you with just the look and ambiance you want at night while increasing the safety of those who use your property.
Call 913.782.1845 or fill out the form below