Add some elegance and fun to your landscaping with fire pits and fireplaces. We design and build stylish fire pits and fireplaces that are a perfect gathering place for friends and colleagues.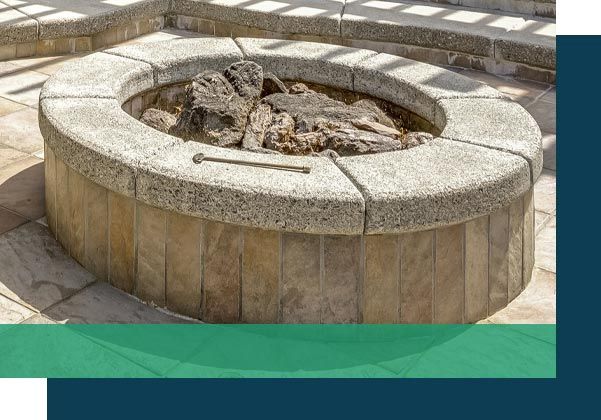 Why choose us for fire pits and fireplaces?
Maybe you dream of cool fall nights gathered around a fire, chatting and making s'mores with family and friends. We can help you make that dream a reality in your own backyard — whether you want a simple fire pit or an elaborate stone fireplace.
Deciding between a fire pit and a fireplace can be a difficult choice. Both are great options for extending the time you can spend outside as they offer both warmth and entertainment. Before deciding on which option is best for you, you should consider how you want to use the fire feature.
Open fire pits offer a low profile look that won't interfere with any sight lines on your property. If you have a beautiful view that you don't want to obstruct, then a fire pit might be a better choice for you. Fire pits also accommodate more people than a fireplace, and when it comes to cost, fire pits are generally the less expensive option.
Fireplaces also have their own benefits. They're perfect for smaller or more intimate gatherings, and they're safer for small children than the open flame of a fire pit. Fireplaces can also lend themselves to more design options because they offer more structure to work with.
No matter what type of fire feature you choose for your home, our team can help you design and install it. Our designers will help you create a fire pit or fireplace that fits perfectly with your home and landscape design. Our installers will practice care and precision to build your fire pit or fireplace and leave your yard looking clean and beautiful when they leave.
Call 913.782.1845 or fill out the form below