Our talented designers and installers use lighting to not only brighten dark areas but to provide ambiance and style to your hardscaped spaces.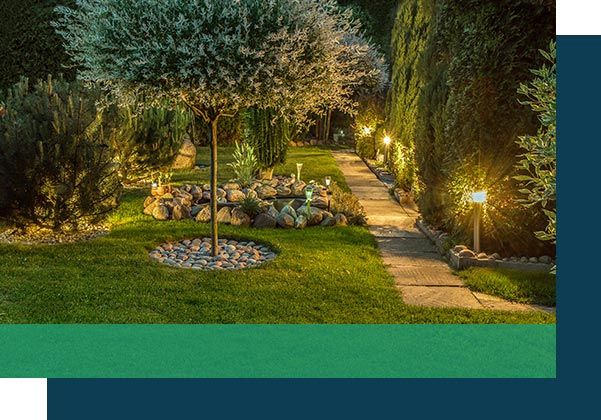 Why choose us for hardscape lighting?
The fun doesn't have to stop when the sun goes down. Lighting up your yard means you can use your outdoor space both day and night. Useful, attractive lighting will make your property the envy of the neighborhood. A well-lit yard means you can enjoy the outdoors in the cooler temperatures of the evening during the summer.
Lighting doesn't just make your yard more useful; it also protects your home. A well-lit landscape can make your house a less attractive target for thieves and trespassers. Good lighting also makes your yard safer for children and pets after the sun goes down.
Our professionals can help you design the perfect outdoor lighting system that provides attractive lighting in all the right places. From walkway lighting to string lights to spotlights, we can create a custom lighting plan just for you.
We'll help you decide on just the right lighting fixtures to enhance your home. Our lighting options range from utilitarian to statement-making. Our team of experts will find the design that's perfect for your needs and your home.
Whether you need help determining your lighting needs or you know exactly what you want, our team of installers is at the ready to install the lighting you want. We can implement entirely new lighting or replace existing lighting to keep your home and yard looking its best.
No matter your lighting needs, we want to help you create an outdoor space you love – both day and night.
Call 913.782.1845 or fill out the form below