Landscape Design + Install
Our skilled landscapers work with you to design and build an eye-catching and functional outdoor space. Whether you need a complete landscape overhaul or simply want to spruce up a few spots, our team can help create a beautiful outdoor haven.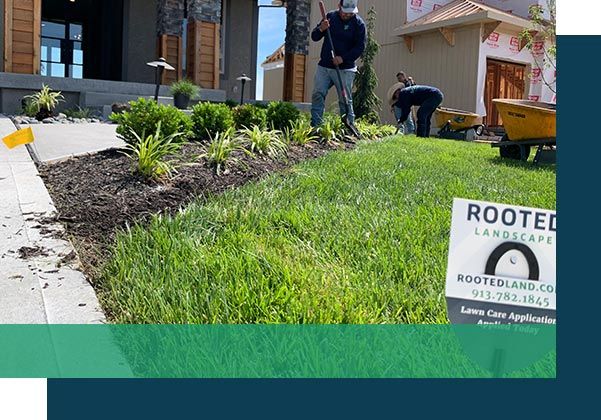 Why choose us for landscape design + install?
When you look at your property, what do you see? Is it a hodgepodge of landscape beds, lawn and trees? Do you dream of having a landscape with flowers, shrubs, trees and grass that has a purposeful design with spaces that you can use?
Our landscape design and installation team is here to help. At Rooted, we want your landscape to reflect who you are. Our designers take the time to listen to your vision and help you to turn it into reality. We consider your needs and preferences when it comes to plants and upkeep to create a design that truly reflects you.
We know that an engaging, beautiful outdoor space can be a haven for those who live and work on your property. Whether you want a place to entertain or a spot for quiet reflection, our team can design the perfect landscape for you.
Whether or not you use our design services, our installation experts are the ones who make your vision come to life. From planting large trees and shrubs to building landscape beds or installing lighting, our team of professionals will work swiftly and meticulously to create a gorgeous and functional space. We give the same care and attention to every job, whether we're planting a single tree or re-landscaping your whole property.
Don't have a green thumb? Don't worry. When our design and install teams are done, they'll make sure everything is in place and you have all the information you need to keep it looking beautiful no matter the season.
Call 913.782.1845 or fill out the form below