Perfect weather calls for dining outside. With our stylish, functional outdoor kitchen designs, you can entertain friends and family while enjoying the beauty around you.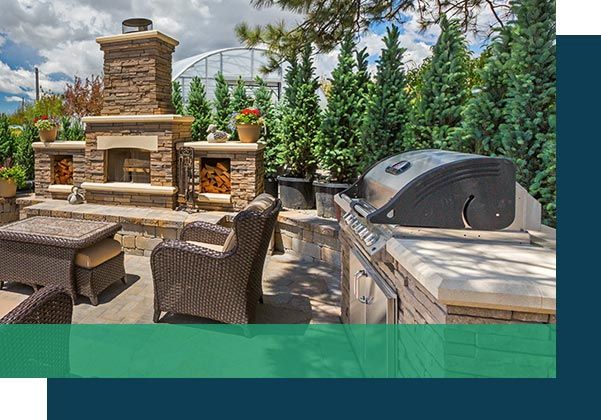 Why choose us for outdoor kitchens?
Outdoor kitchens are perfect for entertaining and cooking without creating additional mess in your house. Whether you're looking for a more elaborate setup or you're looking for a single feature, an outdoor kitchen can make your yard a destination for outdoor entertainment.
We have years of experience building outdoor kitchens, and there are plenty of options to choose from. Whether it's a partially enclosed space or an outdoor kitchen open to the elements, we can build a hardscape from scratch or modify an existing patio or hardscape.
Appliance manufacturers are increasingly offering kitchen appliances designed to withstand the weather, which makes it simple for us to provide the right appliances for your needs and tastes. It's important to choose your appliances before picking out the hardscape surface and countertops to ensure the appliances fit with the overall design of the outdoor kitchen. As all-weather appliance options are more limited in style, choosing them first makes designing around them easier.
Our design and installation team can help you choose the right materials and layout that will make your outdoor kitchen a destination for family and friends. We'll work with you to create a design that fits both your needs and your budget.
Our installers' primary goal is to actualize the beautiful outdoor kitchen you have in mind. Our team carefully implements the design, solving any unexpected issues quickly and painlessly along the way, so you can get cooking in your outdoor kitchen as soon as possible. When we leave your home, the only thing we want to leave behind is a satisfied customer.
Call 913.782.1845 or fill out the form below