Retaining walls can go beyond the utilitarian. Our team designs functional retaining walls that add style and interest to your landscaping.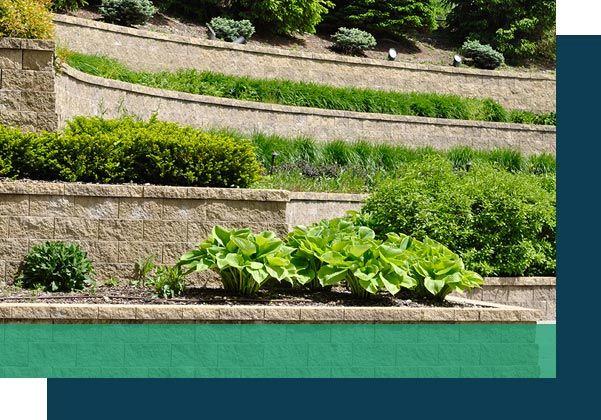 Why choose us for retaining walls?
Not everyone needs a retaining wall, but if you do, it can be an important part of your landscape, both structurally and visually. Retaining walls are used to hold dirt in place and often border driveways or hills on your property.
Retaining walls serve several purposes. Their most common use is to prevent erosion. A retaining wall holds back soil and plants and prevents them from eroding into your yard or home. Retaining walls are also used to divert rainwater so it redirects to a more desirable location.
However, retaining walls have more than just utilitarian uses. You should consider a retaining wall if your property has larger slopes and you'd like a flat space for entertaining or recreation. You can also use a retaining wall to add seating by using the wall to define a space and create a place to perch.
Whatever your reason for wanting to install a retaining wall, our hardscape experts can build one that suits your purposes and your landscape design. With more than 30 years of experience, our team has seen it all, which means that no matter what you want to accomplish with your retaining wall, we have the experience to design and install what you need.
We'll help you choose beautiful, durable materials that fit with your landscaping before installing a uniquely designed retaining wall that is functional and attractive.
Call 913.782.1845 or fill out the form below