Whether you want winding pathways or a simple walkway between buildings, our hardscaping team can create walkways and pathways that add interest and utility to your property.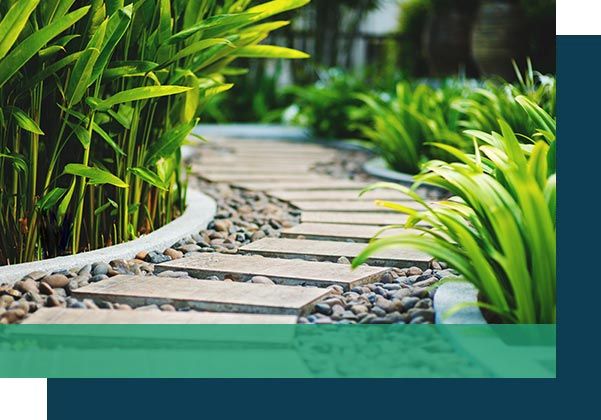 Why choose us for walkways and pathways?
Many homes have just a single walkway up to their front door, but different walkways and pathways can provide visually appealing enhancements to your landscaping and improve walkability on your property. Well-placed walkways and pathways will direct the flow and traffic of your yard in a way that draws attention to landscaping and hardscaping features while removing wear and tear from your grass.
Our hardscaping designers will create an action plan for pathways and walkways that are useful and enhance your property. Meanwhile, our landscape team will design an entire plan for your yard that uses both hardscape and landscape elements to make your yard a sight to behold.
Let our installation team do the heavy lifting on building your walkways and pathways. Whether you want poured concrete, paver stones or gravel, our experienced installers can do it all. We'll quickly and efficiently finish your project, leaving you with gorgeous hardscape features in your yard.
Already have existing walkways and pathways, but they need a little work? Don't worry. We can repair or replace concrete or paver stone walkways to once again give them a clean and fresh look and feel.
All of our work is done with your individual needs in mind. We do our best to leave your yard in better condition than we found it by minimizing our impact and cleaning up after ourselves. When we leave, the only thing left behind is a new pathway that brings beauty to your yard.
Call 913.782.1845 or fill out the form below