Breathe New Life Into Your Landscaping
Like many things in life, time isn't always kind to our lawns. That's why our team at Rooted Landscape in Olathe offers our premium lawn renovation services for residents and businesses. As time marches on, your lawn can start to look tired and worn down. And not everyone has the time and energy to bring their lawn back to life. You can trust us to give your landscape the time it deserves to give it a whole new lease on life! If your landscape could use a little love, give us a call at Rooted Landscape. We can bring your tired landscape back to life in no time! You can get started now by asking about your free consultation.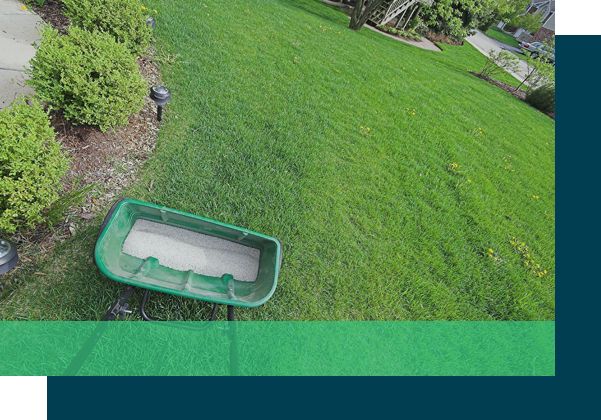 What can I expect from my lawn renovation services at Rooted Landscape?
Aeration

Verticutting

Sod Installation

Fertilization

Seeding

Weed Removal

And More!
No matter what your lawn needs, our lawn renovation services can handle it. Whether you are a homeowner, an HOA leader, or a business owner, you can count on our team for quality lawn renovations. Reach out today to get started with your free consultation.
Lawn Care Renovation Services
Your lawn is like any living thing and thus its vitality gradually decreases with age. Whether it's from exposure to heat, cold, disease, pests, or just the soil losing its nutrients over time, your grass may lose its luscious green, its thick growth, and its health, giving way to brown spots and weeds. That is why our lawn care renovation services are so essential to providing your grass with the tools it needs to regain its health and thrive.
We work to revitalize your lawn, whether it be by fixing the issues that are harming your grass, giving the soil the kick-start it needs to provide useful nutrients to the grass, or providing the lawn with a little extra grass seed so it can work on fighting off weeds, disease, and pests. Whatever the case, Rooted Landscape in Olathe can help your lawn grow healthy and strong once again. Our lawn care renovation services include:
Lawn Aeration Services
By perforating the ground with small holes, lawn aeration is a lawn care technique that allows water, nutrients, and air to reach deep down into the soil and grassroots. In addition, the cores left on the lawn after the process break down to provide the grass with additional nutrients that promote growth and life.
Verticutting Services
Verticutting is most effective when you don't have remarkable thatch build-up. Slice seeding works by using a machine that simultaneously slices and seeds the lawn, increasing the germination of the seed and allowing it to grow stronger and faster.
Sod Installation Services
Because you are basically laying a carpet of grass on to soil, sod installation needs to be flawless in order for your grass to take and grow strong and healthy. Trust our lawn care experts at Rooted Landscape in Olathe to know whether sodding or seeding is best for your lawn.
Contact us today to learn more about our lawn renovation services!
Call 913.782.1845 or fill out the form below